Welcome to My National Publicity.com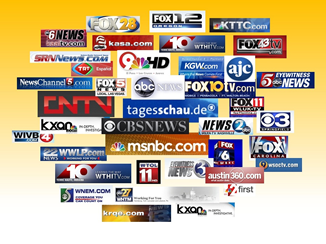 Nothing beats publicity.  Especially – FREE publicity.  You may have a great product or  service to offer your market.  Your product may even be better than the competition's or the "Big Guys" in your market. Without some kind of publicity, however, you will remain virtually "invisible" to the mass marketplace. Gaining the right kind of exposure or publicity for your product, service (or both) can mean the difference between success or failure. Getting National publicity is the cheapest, most powerful method there is for marketing your business to the largest audience possible.
There are many marketing methods in use today. Many of them depend upon people sharing or recommending your business with others. There are also Search Engine strategies that are often complex and costly. Although these are legitimate methods, let's face it… they're slow and take a while to "grow roots." Your business may not be able to survive the "slow growth" method and still be in existence at this time next year. That's where publicity comes in.
What type of marketing publicity works in the new economy?  Local publicity is an option. You can generate publicity through local events, local newspapers and even local TV stations.
Which one do you pick? News sources come in all shapes, sizes and mediums.  Some people still read their local newspapers religiously. Others prefer tuning in to MSNBC or CNN. There are those who still prefer listening to AM/FM radio.  Others subscribe to a variety of blog sources.
With so many outlets and so many sources of information, the marketing methods of the past are producing little more than bland, diluted results. Taking out a single magazine or newspaper ad seldom produces the type of results that you're looking and hoping for.
Movie clubs, DVD's and social online networks have changed everything.  Even the local Yellow  Pages seem to be going the way of the dinosaur. People have traded in the Yellow Pages in favor of search engines like Google and Yahoo.
Why get caught in the trap of spending thousands of dollars for ads that don't produce results?
There is, however, another option.  You could target ALL of the outlets I mentioned above in your particular niche or market… and you can do so for the same or even less cost than it would to take out a single ad in a well-known publication.
Big Companies Get Even Bigger Because They Understand and Utilize the Power of Free Publicity To Market Their Products

If you're like most business people, you are unfamiliar with how practical publicity works. Advertisers aren't going to tell you about it. They want you to PAY to get noticed. That's how they make their money. That's what keeps their industry alive. Paid Ads, however, are just one way to reach the masses. A well-written, press release that captures the attention of journalists and media contacts across the country can generate a lot more publicity and interest for your products than a high-budgeted media campaign. Simply put, the right kind of publicity will translate into BIG money for your business.
And best of all, it's easy to do! Think about it… the press needs to continuously publish news and information (day in and day out) to stay in business. They're in the "news business." This is where you  come in. You don't need to have a major event, product or service to find your way into print. Take a closer look at magazines, newspaper and television ads. Highly "ordinary stuff" is written about each and every day.
Below are a few "tricks" you can use to help your press release find its way into print.
GIVE A PERCENTAGE TO A CHARITY
The press loves charitable organizations. A portion of your sales/profit can be donated to a local or national charity. And if that particular charity happens to be making local or national headlines… all the better.
BE DIFFERENT AND OFFER MORE THAN "FLUFF"
Always remember the words: "What's in it for me?" If a press release can answer that question for both the journalist and the consumer, you have yourself a sure-fire winner on your hands. That's the only question people need answered when it comes to your product service or event.
All of the "big, big event" adjectives and fluff phrases in the world can't replace a press release that answers the; what's-in-it-for-me question.
DON'T SOUND LIKE AN ADVERTISEMENT
Most press releases are filled with thinly veiled promotional hype. Your main purpose is to offer usable content which will in turn inform the public of upcoming or new business developments, products, services or events. You have but a few seconds to grab an editor's attention. That's true with the press and public alike. Get to the point – in print.
To purchase one of our media/press release packages, please click here to continue…